"I think the concept of adapting a clothes collection into cosmetics is very interesting…I am obsessed with colour and the different ways it looks on people's skin."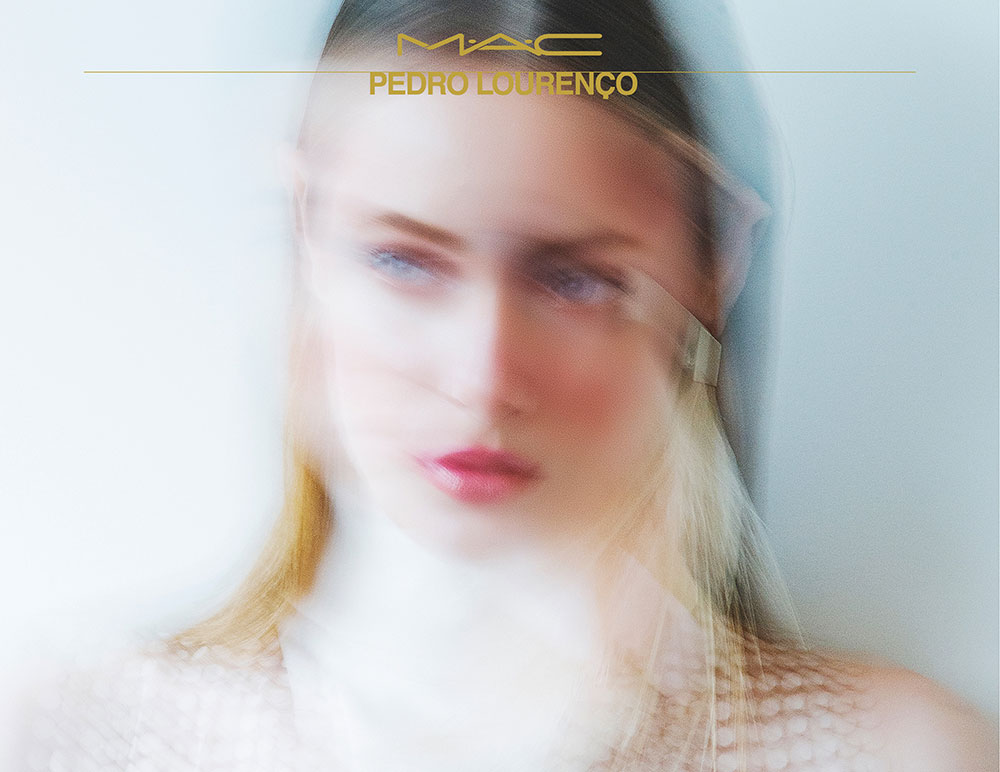 MAC Pedro Lourenco Color Collection will be available June 5, 2014 at select M·A·C locations and maccosmetics.com.È
How did this collaboration with M·A·C come about?
Pedro Lourenco: It's a long-term relationship. I have been working with M·A·C in Brazil since 2004, when they first started working on the makeup for my fashion shows. My mother wears dark lipstick and she always went for M·A·C. Since I was very small, I was in touch with M·A·C products. She would go to school and pick me up wearing this lipstick. It was a lot stronger than what the other mothers wore.
What did you enjoy about working on makeup, as opposed to fashion?
I think the concept of adapting a clothes collection into cosmetics is very interesting. I understand that it's another universe and technique to work with, but a makeup range is something I have always wanted to do. I am obsessed with colour and the different ways it looks on people's skin. There is a strong connection between the fashion I presented this season and the cosmetics collection – the shades and colours, with lots of nudes, means you have this fresh feeling of beautiful, healthy skin.
So, how did you approach designing this collection?
We wanted to do a base collection – a peach and blush, different shadows for the eye but very natural colours. We went to the best leather shop in Paris to buy nude leather samples to match the shades. The colour comes from the lipstick – including silver and gold. It's very shiny. For nails, we decided to do nude and red. It's neutral but with a flash of colour. The silver and gold lipsticks are really strong but I love the nude nail polish. It's so elegant and super-chic, making the hands appear longer.
And did you enjoy working on the packaging?
Very much. It's really important because the whole experience of using the products comes from that. What I wanted to reflect here was a vintage and glamorous look but also for it to be modern. The gold reflects the traditional side, the soft touch of the lipstick case is the hi-tech side.
How does this all relate to your fashion aesthetic?
My aesthetic is connected to graphics. The whole process is on the computer – even when I hand sketch, I scan it in. I'm very interested in construction, like an architect; the autumn/winter collection was a lot about that. It was inspired by American Vogue editor Diana Vreeland. I wanted to recreate her look and philosophy for today. I put sports trousers with stripes, white heels and a couture jacket with gloves and golden bracelets. It is mixing things up, but it's also looking to the past, and to the future, to create today.
Who do you think your clothes appeal to?
I like to think of women in general rather someone specific. My aesthetic can fit lots of different types of women. I think someone who works with art or architecture is a great example – she's very confident about herself and feels free to express her point of view through clothes.

You have produced digital fashion shows instead of the traditional catwalk for the past two seasons. What appeals to you about that format?
Digital shows explore new avenues. I am very open-minded with new ways of presenting. I like to be able to present the collection in person to the press, to explain and show the construction. The simplicity and the elegance are important but I also like the details that make the piece special. When I can show this in person, it makes a lot of difference.

You started designing when you were quite young. What impact did this have on your career?
I started designing when I was 12 and it was a shock to the whole business. I was inspired by tennis shoes for my first collection. People were surprised it had a kind of identity for someone so young. My parents work in fashion, so I grew up in it. The only condition my mother gave me was that, if I was going to work, I had to do well in school. Until I was 16, my collections were more like a laboratory – a way to develop my point of view and express myself.
What is the fashion scene like in Brazil?
It is in development. It's a young country and there is a lot of space and a lot of opportunities. I was incredibly lucky because the people who I respected in the Brazilian industry were on my side and they were always constructive with their criticism.
What's next for the Pedro Lourenço brand?
My big goal is to develop techniques and new things beyond my brand – for the whole industry. I think there needs to be a revolution. Why do we need seams, for example? There is a whole new way to see how clothes are manufactured. In terms of silhouette, almost everything has been explored already. But with manufacturing, it's a new universe to explore.